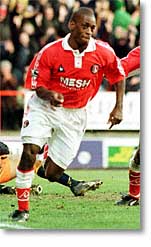 Happier times?
Among Charlton fans who went to the Boxing Day defeat, there is a general consensus that the midfield were woeful, Stephens in particular giving away possession again unnecessarily, leading to one of the Ipswich goals. The front pairing could hardly be blamed for not doing more when the service was so woeful.
One long-standing fan commented: 'The strike pairing worked hard at competing for the ball, which they only saw from punt-clearances from the back four, as, apart from Haynes in the first few minutes, the wingers were rarely given decent balls to work with, and there was little end-product ...or none in the case of Green, who frequently drifted even deeper than Solly when there was a crying need for a wide player for an out-ball. From where I was sitting, Green, Frimpong, Stephens and Seaborne were consistently poor first half, and it came as no surprise to see the former two replaced at half time. Pritchard proved to be part of the solution, at least wanting and using the ball.'
Another fan commented, 'Firstly 3 of the 4 midfielders just didn't turn up. The fact Stephens survived his first half horror show only serves to show just how abysmal Frimpong and Green were. The introduction of Jackson and particularly Pritchard turned the game in our favour. Pritchard brought pace, tempo and bite to the middle, Jackson improved the passing, the harrying and in particular the delivery into the box.'
'Secondly our back four looked decidedly like they'd had too much Christmas pudding. Solly had his poorest half of football in a long time and Seaborne looked like a debutant wearing his boots on the wrong feet. Exposed to the pace and skill of Ipswich's outstanding forward players Campbell and Martin, Morro and Cort looked like they had the manoeuvrability of the Titanic.'
'That first half showing was our worst for some time. Second half, with the changes in midfield, we at least looked like a Championship side. To give Stephens a little credit, at least he looked like he cared that he was putting in a mare, unlike the two subbed. God, you'd think Green would at least look like he wanted to take his opportunity.'
'Central midfield needs to be a priority for any money made available to Powell in January, if he's given the chance to spend it (and it would be a travesty if he's not.)'
The Deepest Darkest blog has dared to invoke the memory of Keith Jones. Much criticised at the time for passing sideways or even backwards, he at least kept possession and found Charlton players with accurate passes.
Derby have themselves suffered two successive defeats, so they are by no means invincible and offer a chance to get back to winning ways.