After Semedo was sent off for a second bookable offence, Charlton played for nearly an hour with ten men at St.Mary's today, but still managed to collect all three points through a 90th minute strike from Chris Iwelumo. The Addicks kept possession well and showed fluency in their passing. Five Addicks were booked.
Often when you have a good journey to the game it ends in a good result. The Warwickshire countryside was looking in good shape when we dropped off Ivy the Terrible to join Hooch the Pooch at his canalside home in Long Itchington. In not much over two hours we were at the Portchester home of Brian Cole and Tessa where we joined other Addicks for a buffet before joining the West Sussex Rickshaw for the short journey to St.Mary's.
Charlton started brightly with good possession. The candidate Saint of a referee awarded the home side a free kick and a shot led to a Southampton corner, but this led to a Charlton throw in. The Addicks won a corner, but a header was over and to one side.
Grant Basey was to have something of a battle with the speedy Bradley Wright-Phillips, but he defended well against him. Charlton won another corner. One of Charlton's worrying defensive errors meant that Basey was obliged to concede a corner.
Basey then should have cleared the ball, but thought he could allow it to run out, allowing a Saint to win a corner off him. Fortune put in an authoritative clearance. A Saints shot came in that was just wide of Weaver's post. Iwelumo tried a shot. Weaver saved from a Southampton free kick.
A clash of two players saw Sodje go down with Saints rewarded with a free kick. A number of Charlton fans were thrown out with loud encouragement from the Saints fans on both sides. Southampton were awarded another free kick by the homer referee, but even his critics have to admit that Weaver is a good shot stopper and he stopped this one.
As the quarter hour marked passed in an action packed match, another Saints shot was saved. Reid put in an attempt that was well wide, followed by another Saints effort that was just wide. Mills advanced well down the wing. An effort by Semedo was saved.
With Charlton under pressure again, Weaver showed his good sense by holding on the ball and telling everyone to slow the match down. There was some good approach work by Charlton, but the keeper saved. Another Basey error exposed the Charlton defence.
Jerome Thomas won Charlton a free kick. The ball flashed across the front of goal but no one was able to connect. A Southampton free kick was kicked out by Weaver. Semedo lost possession and Weaver spilled the ball, but then got to it safely. Lloyd Sam received a yellow card for a foul.
Grant Basey showed his attacking qualities by putting in an excellent ball to Jerome Thomas, but the move ended in a Southampton free kick. Semedo then ran into Viafra and the referee thought that it merited a second yellow card and waved the red. The Portuguese player was astonished by the decision and argued with the referee before leaving the field. Pards subsequently said that he thought the decision was a 'little harsh'.
Basey made an error again, but the ball was cleared. The impressive Sodje made a good clearance with his head. Lloyd Sam made a good run but the resulting cross was poor. A Southampton effort went just over Weaver's bar. Charlton won a rare free kick but Reid sent it straight to the keeper. Southampton had another chance, but put it wide again and we must be grateful for the profligacy of their attacking players.
With three minutes of time added on, Reid booted the ball out from danger. The referee decided he wanted to add Iwelumo to his collection of names and gave him a yellow.
Half time: Saints 0, Addicks 0
There was some good play from Grant Basey immediately after the break. Charlton won a corner, but it only led to a throw in. The still variable Andy Reid lost the ball. Weaver made a good save on the ground. A Danny Mills free kick connected with a Charlton player but was put over.
There was confusion in front of the Southampton goal and the period of play ended with an effort from Reid that was just wide. Reid won a free kick, but the effort went over.
On 67 minutes Saints made a double substitution. Bradley Wright-Phillips who was speedy but little else was replaced by alleged Charlton prospect Grzegorz Rasiak. With the takeover of Southampton apparently stalled, their bankers have told them that they will have to have a fire sale of players in the transfer window. Andrew Surman went off and was replaced by Adam Hammil.
Great work by Jerome Thomas set up Reid and his effort was not far off target. Jerome Thomas won Charlton a free kick. Vignal was taken off by the Saints and replaced by debutante Andrew Davies who could be later heard on Radio Solent complaining about the injustice of the result.
Weaver made a great catch. Even the moaners behind me had to concede that he was having a good game. They turned their ire on Pardew for the delay in making substitutions, but the fact is that the team was playing well together, standing up to the Saints onslauught (such as it was) and retaining possession. Nor was there any particular sign of anyone tiring.
Thomas received a yellow card for dissent. With some ten minutes of normal time to go, Sam was taken off and replaced by Moutaoakil. Shortly afterwards Jerome Thomas was taken off and replaced by Luke Varney. Charlton were still rampant and won a corner, followed by a second which was caught by the keeper.
Southampton won a free kick in front of goal, but it was well defended and a break led to a Charlton corner. Many of the locals in the crowd of 23,367 were heading home: indeed Joe the Saint told us after the game that he thought it had 0-0 written all over it.
Basey appeared in attack and his effort went into the side netting. Reid was withdrawn in favour of Ambrose. Then Varney surged down the right and put in the cross that allowed Iwelumo to score the winner. Wild scenes followed and Moutaoukil ran into the crowd, allowing referee Hill to use his card again. Three minutes of time added on turned into six but Saints were deflated and Charlton were able to maintain control of the game.
As the final whistle blew, the players ran to the Addickted to receive their applause with chants of 'Weaver! Weaver!' greeting the well up for it shot stopper.
Police tried to cordon off the Charlton supporters after the game with an Ivy the Terrible lookalike barking away. The atmosphere was certainly a bit tense, but we were able to meet up with Joe the Saint by the coach and accept his congratulations.
The 4-5-1 formation certainly worked with George Burley subsequently complaining that Charlton had 'flooded the midfield'. What was impressive above all else was the battling spirit shown by our players in adversity, a complete contrast with last week's performance (although QPR are clearly on a roll, although I wouldn't go as far as one of their fans on 606 who said that they were as good as back in the top flight). With the supposedly invincible Watford losing at home to the Baggies, Charlton are well set up for their visit to Bristol on Tuesday night. Unfortunately, work means that I will be staying overnight in London.
Last week the
Sunday Times
attacked Pards for criticising referees. All this talk about referees being shown respect in rugby (a very different sport in terms of the role of the referee) is all very well, but they ought to earn respect. I have seen better referees in the BGB Midlands Division than today's referee. He was unable to control the game, showed a clear homer bias and the only ambition he failed to fulfil was booking Danny Mills.
Elsewhere, Leamington failed to take their chances in their FA Trophy match with Ryman Premier League Margate and the match ended in a 1-1 draw in front of a crowd of 790, the seaside replay taking place on Tuesday evening.
Match analysis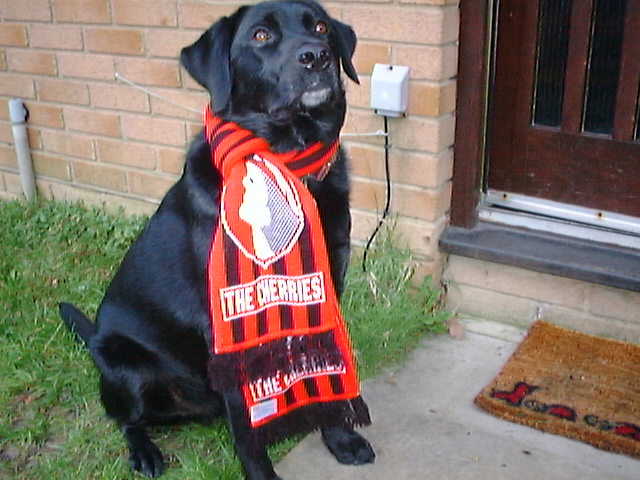 Homer the Cherry Hound in his New Forest days
The Association of Canine Match Analysts had persuaded their president
Homer the Cherry Hound
to give up his normal post at Didcot Town and cover the match in the hope that it would bring luck to Charlton. So it proved and the New Forest born labrador was able to present the
Silver Bone
to
Chris Iwelumo
for one of the most exciting and decisive goals this season.
Weaver
was the subject of constant complaints by moaners, but in fact he had a good and authoritative game, even if he wasn't tested very much by Southampton's wild attempts on goal.
Fortune
had a better game than usual and
Sodje
does not hesitate to deal with danger when it threatens. Just a shame he failed to score with his header. The inexperience of
Grant Basey
showed and he made a mumber of errors, although offset by some good interventions.
Mills
was as effective as ever, advancing down the wing and proving to be a robust defender.
Semedo
played well until he was sent off.
Reid
showed some of his real class again, although at other times he disappointed.
Sam
generally played well, although perhaps not quite as well as he has done in some games.
Zheng Zhi
had an excellent game and was a candidate for the Silver Bone. Indeed, Joe the Saint selected 'Mr Wu'.
Thomas
showed some flashes of real brilliance and it was good to see that he cared when he through his shirt in the crowd at the end.
Varney
did not make a major difference when he first came on, but he did provide the cross that led to the winning goal.
Yassin M.
proved effective on the wing and was so excited by the goal that he ran into the crowd.
Ambrose
looked useful when he came on.
Hiss of the Match
A very loud hiss was given by
Juneau the Soccer Cat
to officious referee Keith Hill. He started as he meant to go on by requiring that the kick off be taken twice. Offences by Charlton players seemed to be dealt with more harshly than those by Saints.
Crowd rating:
A large crowd of Addickted was on top form, even if the 'Charlton, Play Up; Play Up, Charlton' chant did not catch on. 9/10.