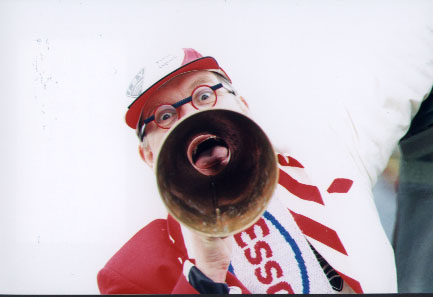 No.1 Iceland Addick Olafur Johansson
Yes, it's your old pal Olfaur and thanks to Wyn Grant for giving me this space to send a message to my old pals in SE7.
By Jove, for a small country we Icelandic persons know how to produce footballers! What a stunning free kick by Johann Berg Gudmundsson against the seaside donkeys. And it was the latest in a series.
I still get the programme to while away the winter days here in Grindavik (and it's winter most of the time, I can tell you). The latest one has just arrived and I soon forgot about the shill cries of the fishwives in the packing sheds when I saw that if featured another great Icelandic player for Charlton, Hermann Hreidarsson, aka the Herminator.
He had been languishing on a tractor in Suffolk but came to the Addicks for what the programme calls a four-stay stay in SE7. The proof reading used to better when that Mr Everitt was in charge. Of course, they meant four years.
The Herminator says that his game was very athletic and physical. We are not weaklings in Iceland, our harsh physical environment makes it so. Once at Birmingham City he had to play with a bandage round his bloodied head.
In his first year at the club we finished 7th in the Premier League and normally that would mean a place in Europe, but it went to the Spanners because of their blagging their way to the FA Cup final!
Mr Keith Peacock says that the Herminator was one of the great characters at the club in the last 50 years. He refers to his swashbuckling runs into the final third and his ability to make or score goals at set plays.
The Herminator had a short spell in management in Iceland (with his home town club IBV) before joining his father in a hotel venture on the south coast. It sounds better than being with these stinking fish in Grindavik with only the Mama Mia pizza parlour to go to in the evening. He says that he wants to get back into football management, so maybe there will be a role for him at The Valley one day!
Mr Win Grant met him once when he was doing some sponsorship and he won man of the match and says that he was a gentle giant off the pitch.